Anhalt-Askanien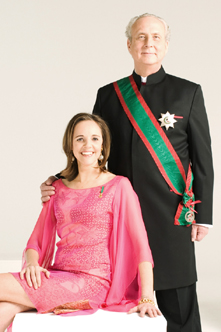 H.H. Prince Eduard von Anhalt (with wife Princess Corinna)
Grand Master of
Order of Albert the Bear - Established: 1382
The Order was named after Albrecht the Bear (1100 – 1170), the first Ascanian Margrave of Brandenburg, Count of Anhalt and Ballenstedt.
The first events at which orders of the Houses of Anhalt were awarded date back to the year 1382.
Albrecht the Bear, son of Otto the Rich, is the great-great-grandson of Count Esiko von Ballenstedt (died approx. in 1059) who founded the House of Ascania. Albrecht was one of the most famous historic persons of the German Middle Ages. He was famous for his conquests east of the rivers Saale and Elbe, but he was also a confidant and diplomat to several German kings and emperors (e.g. Emperor Barbarossa). His conquests and additional rights and power that they gained through marriages made his sons the most powerful princes and electors in the Holy Roman Empire of the German Nation. His son Otto became Margrave of Brandenburg. By the way, Otto's sons founded Berlin and conferred the "bear" of their grandfather to the city of Berlin. Albrecht's younger son Bernhard became Duke of Saxony and inherited the County of Anhalt. Bernhard's oldest son Henry I became Prince of Anhalt and "Stammvater" (first recorded ancestor) of all true living members of the House of Anhalt.