Vietnam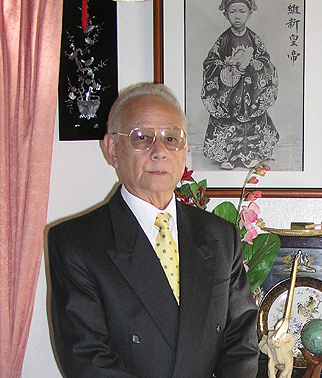 H.I.H. Prince Bao Vang
Grand Master of
Order of Annam- Established: 14 March 1886 by Emperor Dong Khanh, the ninth Nguyen Emperor of Annam. He had been placed on the throne by the French Colonial Administration after the removal of his rebellious uncle, Emperor Ham Nghi.
The Order reflects a move away from the elaborate, traditional Vietnamese style of awards to a European style chivalric order. It was awarded by successive emperors at the Imperial Court at Hue from inception through the reign of Bao Dai, the last resident Emperor of Vietnam, who abdicated on August 25, 1945. It was also assumed in May of 1886 as an official national order of France and remained so until 1950. The French version was awarded in the name of the President the French Republic upon the recommendation of the Minister of the Colonies. The Order was superseded by the newly created National Order of Vietnam on August 15, 1950, when the newly formed State of Vietnam was admitted to the French Union (Bao Dai served as "Chief of the State" under this new arrangement, rather than as monarch) . It is unconfirmed, but believed that the Order may have been awarded sparingly by Bao Dai following his abdication in 1945.
During the absence of the Nguyen Dynasty from their homeland, the Order remained the dynastic property of the Imperial Nguyen Dynasty.
Following a period of some confusion regarding the proprietary rights of the Imperial patrimony following the death of Emperor Bao Dai on 31 July 1997, the Imperial Order of the Dragon of Annam was securely and irrevocably returned to the rightful possession of the legitimate Head of the Imperial Nguyen Dynasty in early 2005. His Imperial Highness Crown Prince Bao Long asserted his hereditary rights as Sovereign of the Imperial Vietnamese Orders in succession to his late father, His Imperial Majesty Emperor Bao Dai, thus putting an end to several longstanding discrepancies involving unsubstantiated dynastic claims put forward by a distant relative seeking to advance an extreme reactionary political agenda. Following the death of Crown Prince Bao Long on 28 July 2007, the headship of the Imperial Nguyen Dynasty and Sovereignty of the Imperial Orders has been assumed by His Imperial Highness Prince Bao Thang, second son of Emperor Bao Dai by his wife, Empress Nam Phuong.
It was further announced that the Grand Mastership of the Order has been entrusted to His Imperial Highness Prince Bao Vang, son of His Imperial Majesty the late Emperor Duy Tan. His Imperial Highness, who ranks behind the Crown Prince and his brothers in the order of succession to the Head of the Imperial House, agreed to assume the responsibilities of leadership for the Order as of 5 August, 2005. His Highness Prince Nguyen-Phuc Qui Luc, a great-grandson of Emperor Thanh Thai, serves as Chancellor of the Order. Prince Qui Luc had governed the Order as the Crown Prince's lieutenant from June 1 until August 5, 2005.
Former Grand Masters:
HIM Emperor Dong Khanh (1886-1889)
HIM Emperor Thanh Thai (1889-1907)
HIM Emperor Duy Tan (1907-1916)
HIM Emperor Khai Dinh (1916-1926)
HIM Emperor Bao Dai (1926-1997)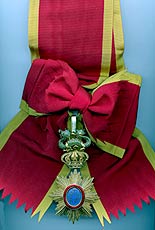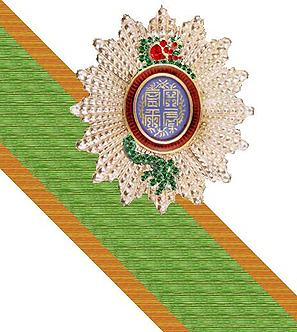 1940 version