Wittelsbach

H.R.H. Prince Franz, Duke of Bavaria
Grand Master of
Order of the Crown of Bavaria - Established: 19 May 1808 by King Maximilian I
Elizabeth Order - Established:
Order of the Lion - Established:
Royal Order of Louis - Established: 25 August 1857 by King Louis I

Motto:
Ludwig Order - Established:
Order of St Anne - Established: 4 November 1444
Order of St George - Established: 1494
Bavarian Order of St Hubert - Established: 4 November 1444 or 1445 by Gerhard V, Duke of Jülich and Count of Ravensberg. He sought to commemorate his victory over the House of Egmond at the Battle of Linnich on 3 November, which is Saint Hubert's day.
The establishment of the Order occurred during a long-term, intermittent territorial dispute, initially between the Dukes of Jülich and the Dukes of Gelder and Egmond, who were descended from a female line of the House of Jülich. The dispute began in the 1430s, when Arnold, Duke of Gelderland claimed the duchy of Jülich and the county of Ravensberg, and was resolved in the 1614 Treaty of Xanten, which established the United Duchies of Jülich-Cleves-Berg of the counties of Ravensberg and Mark with the duchies of Cleves, Jülich and Berg. In 1778, Charles Theodore, Duke of Jülich and Berg and the Count-Elector Palatine, succeeded his childless cousin, Maximilian III Joseph, Elector of Bavaria and brought the Order to Bavaria.
Initially, the order was open to men and women, although limiting the number of male companions to sixty. It commemorated the conversion of Saint Hubert and his standing as the patron saint of hunters and knights. Over time, the award had other uses as a reward for loyalty to the monarch and service to the princely state.
Motto: in traw vast (Firm in Fidelity)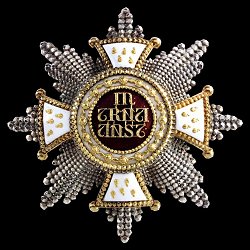 Royal Merit Order of St Michael - Established: 1693
Order of Theresa - Established: 12 December 1827 by Queen Therese of Bavaria (Ladies Only)
Motto: Unser Leben sey Glaube an das Ewige (Our life is faith forever)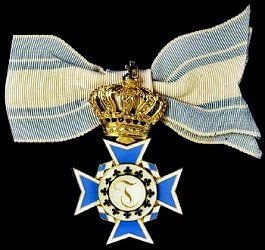 Royal Military Order of Saint George for the Defense of the Faith and the Immaculate Conception - Established: 1726 by Maximilian I